Signing in to your firm's 'Qix BackOffice'
Now that your law firm is using Qix, there are a few simple features to understand about the web software:
If you are the receptionist or IT specialist, go ahead and sign in using the login details provided for your 'backoffice' account via email.
Once inside your firm's 'Qix BackOffice' you will be taken to your firm's main dashboard. 
Take a closer look at the left side-bar, this is where your firm's cloud applications live and operate.
Start by clicking on the blue-colored "C" icon to access your firm's Communicate app which will allow you to chat with clients and your fellow employees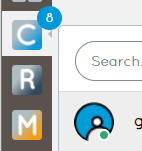 In Step 2, we'll cover how Communicate works!